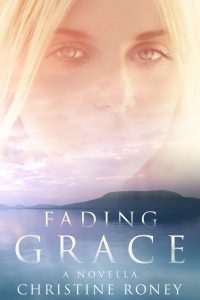 FADING GRACE

Grace Tyler led a comfortable, unremarkable life. In her twenties, she had been an up-and-coming artist with shows in New York, San Francisco, Chicago, London, and Prague. But those years were long past.
A year ago, her husband suffered a fatal heart attack and she's having difficulty adjusting to her new life. She begins to feel invisible. But she's coping.
Or is she? One morning, Grace looks in the mirror and watches in horror as her reflection fades. She doesn't just feel invisible anymore, she is invisible.
Why did this happen? How can she be seen again? As Grace searches for answers to these questions, what she discovers will impact the way we see ourselves and others.
To purchase, click here.
BEYOND STONE
Can an artist on the edge be saved by the very art she created?
Andie is a stone sculptor by day, street artist by night. She keeps her midnight adventures a secret, but that's not the only thing she's hiding. Reeling from grief and guilt, she starts to fall down the rabbit hole. And it's at that dark moment, that three of her sculptures come alive to try and save her. But will she let them?
In this fast-paced, twisting, turning story, Andie walks the line between reality and fantasy, never sure which side she's on.
To buy the Kindle book from Amazon, click here.
To buy the paperback edition, click here.