The Roney Writes Podcast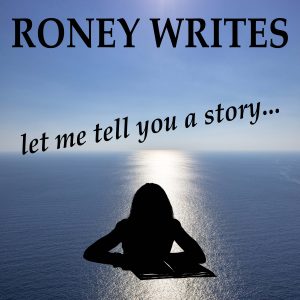 Let me tell you a story….
That's what this podcast is about – stories.  I love to write them and I would love to share them with you.
Stories are always tumbling in my head and I let them crawl onto the page without regard to whether they fit into a specific genre.  So you will find many types of stories here.
A new episode will be put up every Sunday.  Many of the stories will be told over several weeks, some will be just one episode long.
Enjoy!
************************************************************************************
We begin with Jumping The Rainbow,  a story full of adventure, mystery, action, and romance. There are nine episodes. You'll find a schedule posted below – just click the Episode number to listen.
Note: a new episode is put up every Sunday, so only the numbers in blue will link to an episode.
JUMPING THE RAINBOW
Rick and his son, Stone, are on their way to Turks & Caicos for a long-awaited dive trip. Their seaplane soars through the sky on a sunny, warm day. But then Rick feels the plane buck. Stone watches in horror as the sky turns black. The plane starts shaking. What's happening? Rick spots an island and manages to land the plane. Relief floods through them as they motor toward a white-sand beach through pristine water.
Their relief turns to disbelief, however, when they learn they were somehow caught in an anomaly that transported them to another world. They soon discover that the only way to get back to their own world is to find the secret to a long-lost portal.  It's a race against time to find the portal before it's lost to them forever.
Episode              Release Date
One                   August 26, 2018
Two                   September 2, 2018
Three               September 9, 2018
Four                  September 16, 2018
Five                   September 23, 2018
Six                      September 30, 2018
Seven               October 7, 2018
Eight                 October 14, 2018
Nine                  October 21, 2018